Who is one of your absolute favorite authors? For me, it's Karen Kingsbury! She has written so many books and I love every single one of them! She has a series, The Baxters, that is being turned into a TV show!
If you haven't read this series, I definitely recommend it! It starts with Redemption!
 When Kari Baxter Jacobs finds out that her husband is involved in an adulterous relationship and wants a divorce, she decides she will love him and remain faithful to her marriage at all costs. This book shows how God can redeem seemingly hopeless relationships, and it illustrates one of Gary Smalley's key messages: Love is a decision. "Redemption" is the first book in the five-book Redemption series that Gary and Karen will write about the Baxter family—their fears and desires, their strengths and weaknesses, their losses and victories. Each book will explore key relationship themes as well as the larger theme of redemption, both in characters' spiritual lives and in their relationships. Each book includes study questions for individual and small-group use as well as a "teaser" chapter of the next book in the series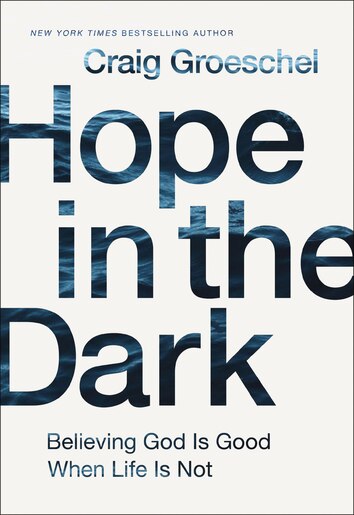 Another one of my favorite authors is Craig Groeschel. He's the founder and senior pastor of Life.Church. He's written several books, including The Christian Atheist, #Struggles and Hope in the Dark.
"I want to believe, I want to have hope, but . . ." Pastor and bestselling author Craig Groeschel hears these words often and has asked them himself. We want to know God, feel his presence, and trust that he hears our prayers, but in the midst of great pain, we may wonder if he really cares about us. Even when we have both hope and hurt, sometimes it's the hurt that shouts the loudest. Can God be good when life is not?

In Hope in the Dark, Groeschel explores the story of the father who brought his demon-possessed son to Jesus, saying, "I believe! Help my unbelief!" In the man's sincere plea, Jesus heard the tension in the man's battle-scarred heart. He healed not only the boy but the father too, driving out the hopelessness that had overtaken him. He can do the same for us today.

As Groeschel shares his pain surrounding the current health challenges of his daughter, he acknowledges the questions we may ask in our own deepest pain: "Where was God when I was being abused?" "Why was my child born with a disability?" "Why did the cancer come back?" "Why are all my friends married and I'm alone?" He invites us to wrestle with such questions as we ask God to honor our faith and heal our unbelief.

In the middle of your profound pain, you long for authentic words of understanding and hope. You long to know that even in overwhelming reality, you can still believe that God is good. Rediscover a faith in the character, power, and presence of God. Even in the questions. Even now.
---
Some other authors I'm a fan of are:
Kiera Cass, author of the Selection series
Suzanne Young, author of The Program series
Veronica Roth, author of the Divergent series
If you haven't been able to tell, I love series!
Who are some of your favorite authors?