Hey everyone! It's WWW Wednesday!
To take part all you need to do is answer the following questions:
~What are you currently reading?
~What did you recently finish reading?
~What do you think you'll read next?
What Are You Currently Reading?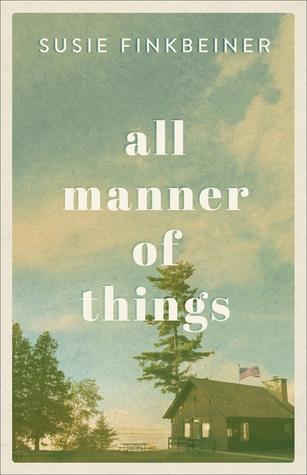 All Manner of Things by Susie Finkbeiner
I just started reading this so I haven't gotten very far but it sounds like it'll be really good!
Synopsis:
When Annie Jacobson's brother Mike enlists as a medic in the Army in 1967, he hands her a piece of paper with the address of their long-estranged father. If anything should happen to him in Vietnam, Mike says, Annie must let their father know.

In Mike's absence, their father returns to face tragedy at home, adding an extra measure of complication to an already tense time. As they work toward healing and pray fervently for Mike's safety overseas, letter by letter the Jacobsons must find a way to pull together as a family, regardless of past hurts. In the tumult of this time, Annie and her family grapple with the tension of holding both hope and grief in the same hand, even as they learn to turn to the One who binds the wounds of the brokenhearted.

Author Susie Finkbeiner invites you into the Jacobson family's home and hearts during a time in which the chaos of the outside world touched their small community in ways they never imagined.
What Did You Recently Finish Reading?
The Healing Jar by Wanda E Brunstetter. This was an ARC and it will be released on August 1, 2019. It is book 3 in The Prayer Jar series.
I LOVED this series! I devoured each book in a matter of days! I love Amish fiction.
Synopsis:
What if you have waited to find love only to be rejected when it finally comes?

Lenore Lapp is an Amish schoolteacher in her late twenties still living at home with her parents and grandparents. She thought love had passed her by until she meets Jesse Smucker, a widower with a baby daughter. She quickly falls in love with them both and accepts Jesse's proposal of marriage, but Jesse breaks off their engagement when he realizes he can't marry only for convenience.

Resigned to living single, Lenore throws herself into caring for her elders. While working in her grandmother's garden, she digs up an old jar. Will Lenore find healing for her broken heart and solve long-buried family secrets by reading the note contained inside?
What Do You Think You'll Read Next?
The Yellow Lantern by Angie Dicken. This is another ARC that I can't wait to read!
It comes out on August 1, 2019.
Synopsis:
In 1824, Josephine Clayton is considered dead by everyone in her Massachusetts village—especially the doctor she gas assisted for several months. Yet, she is still very much alive.

After the doctor's illegal dealing with his body snatcher to obtain her body, Josephine awakens, positioned as the next corpse for his research. To cover up his crime, the doctor tries to kill her, but Josephine begs to be spared. They strike a deal—Josephine will leave her village and work at a distant cotton mill. All the while, she'll await her true mission—posing as a mourner to help the body snatcher procure her replacement.

At the mill though, Josephine is praised for her medical remedies among the other female workers, gaining attention from the handsome factory manager, Braham Taylor. Yet, when Braham's own loved one becomes the prey for the next grave robbing, Josie must make a choice that could put her dark past behind her or steal away the promise of any future at all.

What price will Josie pay for love when her secrets begin to unravel?
Your turn!