My TBR pile on Goodreads is growing every day, lol. I thought I'd share with you a few of the books on my list! I have not read any books by these authors! So who knows? I might find another favorite author through these books!
First up, is Waiting for Tom Hanks by Kerry Winfrey.
Annie is twenty-seven years old, single, and obsessed with romantic comedies (she and her mother watched them religiously, before her mom died). Her dating life is limited by the expectations she's formed from these movies. She is not as open to new experiences as she might be, because she's waiting for her Tom Hanks–i.e., a guy she'll find in the perfect, meet-cute romantic comedy way. When Annie does finally meet her perfect match, it's not quite in the way she expected, and she's forced to reckon with the walls she's built around herself over the years.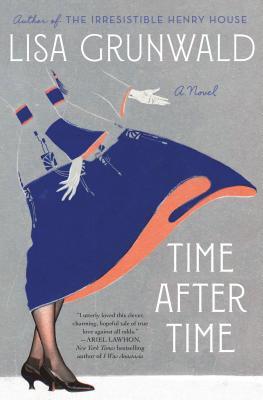 Next up is Time after Time by Lisa Grunwald.
On a clear December morning in 1937, at the famous gold clock in Grand Central Terminal, Joe Reynolds, a hardworking railroad man from Queens, meets a vibrant young woman who seems mysteriously out of place. Nora Lansing is a Manhattan socialite whose flapper clothing, pearl earrings, and talk of the Roaring Twenties don't seem to match the bleak mood of Depression-era New York. Captivated by Nora from her first electric touch, Joe despairs when he tries to walk her home and she disappears. Finding her again—and again—will become the focus of his love and his life.

Nora, an aspiring artist and fiercely independent, is shocked to find she's somehow been trapped, her presence in the terminal governed by rules she cannot fathom. It isn't until she meets Joe that she begins to understand the effect that time is having on her, and the possible connections to the workings of Grand Central and the solar phenomenon known as Manhattanhenge, when the sun rises or sets between the city's skyscrapers, aligned perfectly with the streets below.

As thousands of visitors pass under the famous celestial blue ceiling each day, Joe and Nora create a life unlike any they could have imagined. With infinite love in a finite space, they take full advantage of the "Terminal City" within a city, dining at the Oyster Bar, visiting the Whispering Gallery, and making a home at the Biltmore Hotel. But when the construction of another landmark threatens their future, Nora and Joe are forced to test the limits of freedom and love.

Delving into Grand Central Terminal's rich past, Lisa Grunwald crafts a masterful historical novel about a love affair that defies age, class, place, and even time.
Finally, (though I have many, many more, lol) is How to Stop Time by Matt Haig.
Tom Hazard has a dangerous secret. He may look like an ordinary 41-year-old, but owing to a rare condition, he's been alive for centuries. Tom has lived history–performing with Shakespeare, exploring the high seas with Captain Cook, and sharing cocktails with Fitzgerald. Now, he just wants an ordinary life.

So Tom moves back to London, his old home, to become a high school history teacher–the perfect job for someone who has witnessed the city's history first hand. Better yet, a captivating French teacher at his school seems fascinated by him. But the Albatross Society, the secretive group which protects people like Tom, has one rule: never fall in love. As painful memories of his past and the erratic behavior of the Society's watchful leader threaten to derail his new life and romance, the one thing he can't have just happens to be the one thing that might save him. Tom will have to decide once and for all whether to remain stuck in the past, or finally begin living in the present.

How to Stop Time is a bighearted, wildly original novel about losing and finding yourself, the inevitability of change, and how with enough time to learn, we just might find happiness.
Have you read any of these books? 
What books are on your TBR list?
Let's talk books!